To create an account at Gympass, your company must be a partner of Gympass (if it is not yet, make a referral clicking here). Follow the step by step below to create an account and get access to all available plans.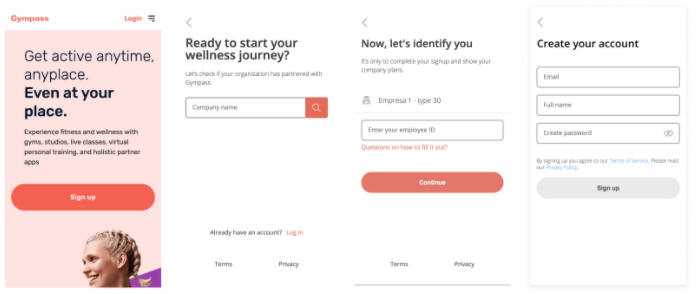 Access the Gympass app or website and click

Register
Search your company

and select them.

Put your

corporate email, identification document or employee number

and click in Continue*

Complete your information with

email

,

name and password

and click in continue to proceed with your registration

.

If necessary,

verify your email address

putting the code sent to the email provided.

Click on signup to finish

All set, now you already have a Gympass account! :)
*If your company may also have a different access key, like a company page or SSo, make sure to check what is the requested one, on the welcome email.
Needing help finding the right plan for you? Our agents will talk with you to learn about your unique fitness and wellbeing goals and provide customized suggestions on Gympass offerings including local gyms, virtual fitness options, and wellbeing options such as meditation or nutrition apps.
Call our Wellbeing Experts at 618-496-7277