To find for a local gym, a live class (yoga, HIIT, etc), or even a personal trainer it is necessary to have an account and be logged on the app. You can only create an account if your company offers Gympass to its employees.
After creating an account, you can check the plans and the list of gyms available in each before finalizing activation. 🤸‍♀️
Important: The app does not have filters to search for live classes. This search must be done directly on the Explore tab on the app.
Sign in on the app and click on the

Search button

at the bottom of the screen.

Fill the

search field

with the gym, studio, or activity you want to locate.

If you prefer, you also can search for the region on the map by state, city, or neighborhood.

Slide the screen up to see the options or the nearby gyms.

Click on the gym

you are interested in to learn how to access and gym plan level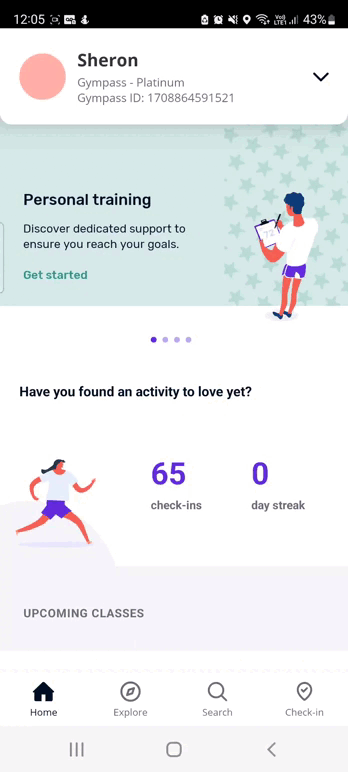 Screenshot of the app's search section for gyms and studios.
In Explore you can browse through pre-selected categories such as partner apps, in-person classes, and online personal trainers. Remember, you have one (1) check-in per day to access: gyms and other partners. This means you can access one gym per day and multiple gyms during the month.👍